I love a cookery book.  There, I've said it. When life's lemons are particularly sour, and making you wince, then there's nothing more calming than getting under the duvet with a glorious new cookery book.
Other females may retire to bed with a cup of cocoa and a romantic novel. Not me. No.
I just love looking at the pictures, reading about the ingredients, the method, the cooking pots needed and what the author suggests might be good side dishes and the accompanying tips.
I declare silently to myself that I can cook that, and I WILL cook that, it looks so good. But I never do.
I'm sure I'm not alone in being that woman who sticks to her tried and tested meals. Although I live alone, I do cook for myself every night, but I'm no stranger to what my disrespectful children call a coddle.
My 'coddles' are usually a meat-based, slow-cooked, one-pot meal, BUT always include anything that is lurking in the fridge at the time that has to be used up.
At the moment I'm devouring (excuse the pun) a new cookery book called Cook It, Eat It, Live It, by Jo Kenny, and I've identified at least one recipe that might just end my can-cook this dish, but won't cook this dish, frame of mind.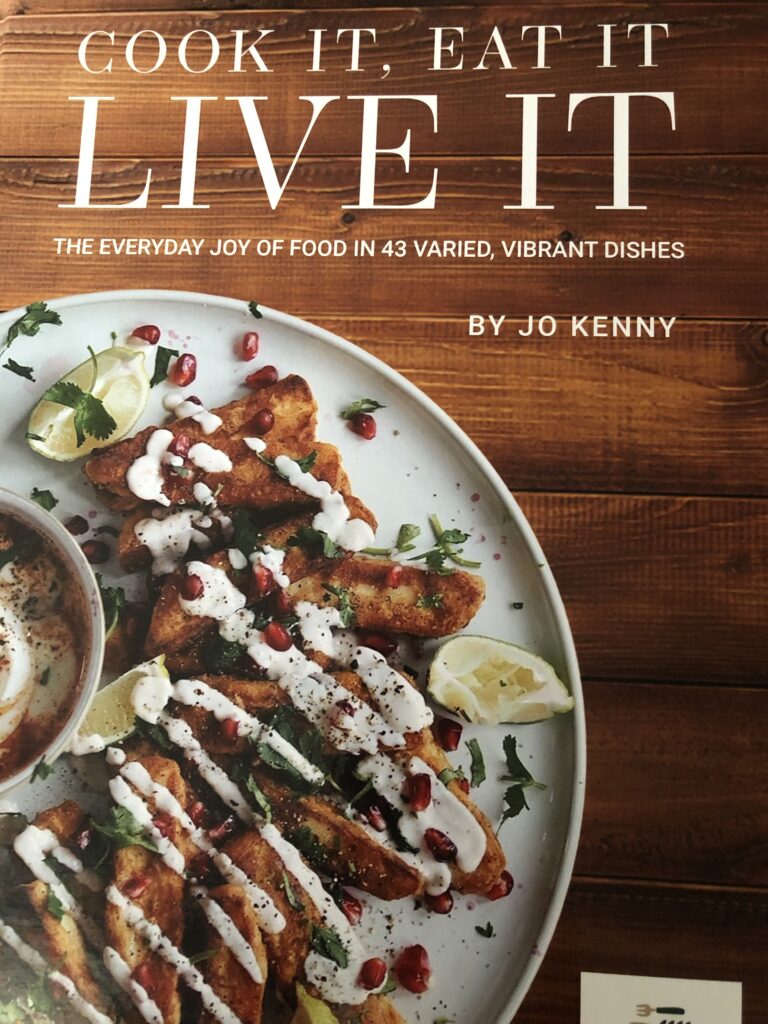 Yes, I think this is THE one.
Why is this one different, well, when I turned to page 92, and read this…
"Wow!  I've never known a girl who likes her food as much as you do!"
And then read Jo's response, I instantly knew that I wanted to read more of her back story, simply because, I bloody love food too. And I don't want the salad either, I want the fries, and no you aren't sharing!
Jo's first adventure into the recipe world, started in 2012, when she created her blog www.girleatsworld.co.uk, as a personal space to capture and share cooking, and food experiences.
Fast forward to 2022 and I'm the proud owner of Jo's first published cookery book and I love it.
Cook It, Eat It, Live It, is just a lovely narrative of Jo's love of food. It's full of wonderful little anecdotes about her journey into cooking. There are fabulous pictures and short backstories documenting her travels, which form the backbone of her inspirational recipes.
The photography is stunning, and the timely quotes that run throughout the book just make you smile and nod in agreement.
I particularly loved her 'a few of my favorite things' such as watching butter melt into the holes of a crumpet and spreading custard over a freshly set trifle.
There are 48 recipes in Jo's cookery book, and I could, and would attempt most of them. I'm not an accomplished cook, but I like cooking. I find some cookery books a bit intimidating, with too many (expensive) ingredients. Not so this one.
It has just the right balance between being informative, suggesting store cupboard staples, and assuming you have some basic cooking skills.
Each recipe gives clear and concise instructions, which include what equipment you need, ingredients, and the method, as well as the prep time, cooking time, and servings.
There is a gorgeous photo on virtually every page, which honestly makes your mouth water and inspires you to get cooking.
Amongst my favorite recipes are Orange and Garlic Chicken Legs, needing just 5 ingredients, but I can see how they will make that chook's legs taste amazing, and turn what might otherwise be a predictable taste, into a delicious versatile meal.
But Chicken Legs will have to wait a while as I'm off on my holidays in a couple of days, so, I chose an easy pasta dish from the book for my pre-holiday supper.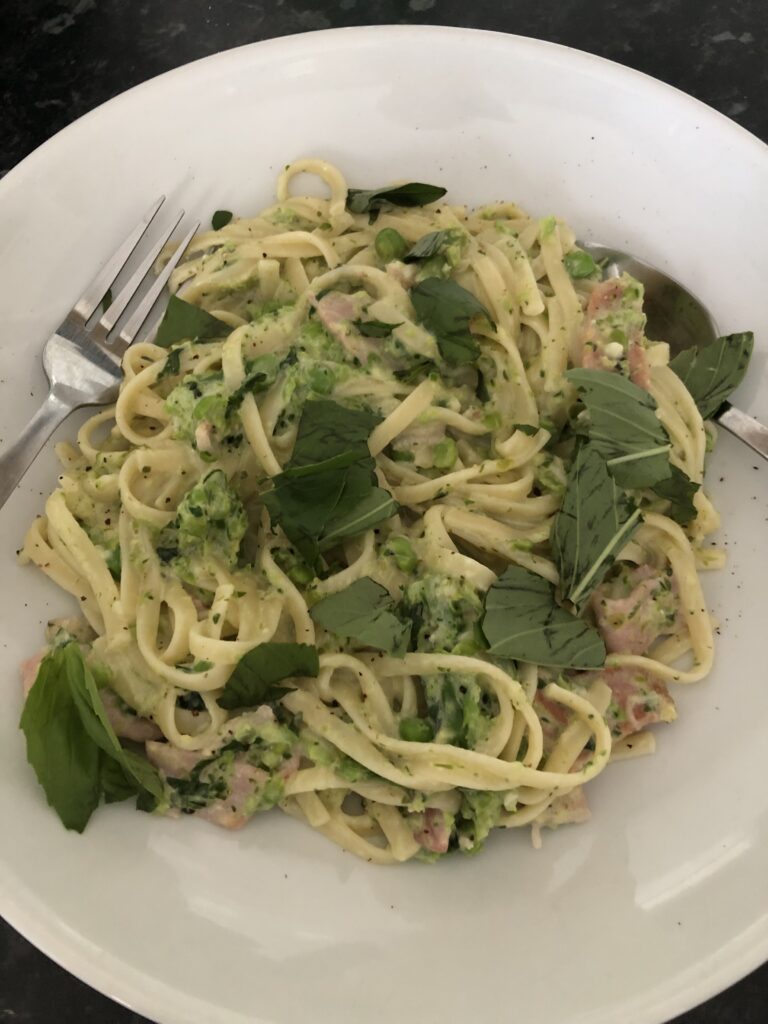 Here is my plateful of Jo's Pea and Smoked Bacon Spaghetti, and I must say it was easy to cook and delicious to eat. The hit of lemon and parmesan on the plate just makes it taste so fresh and zingy.  I really enjoyed it, and went back for seconds!
So to sum up succinctly my review of Jo Kenny's, Cook It, Eat It, Live It, cookery book is… I love it, I will work my way through the recipes, and with Christmas on the horizon, I think it would make a great gift.  I'd be very happy to find this under my tree.